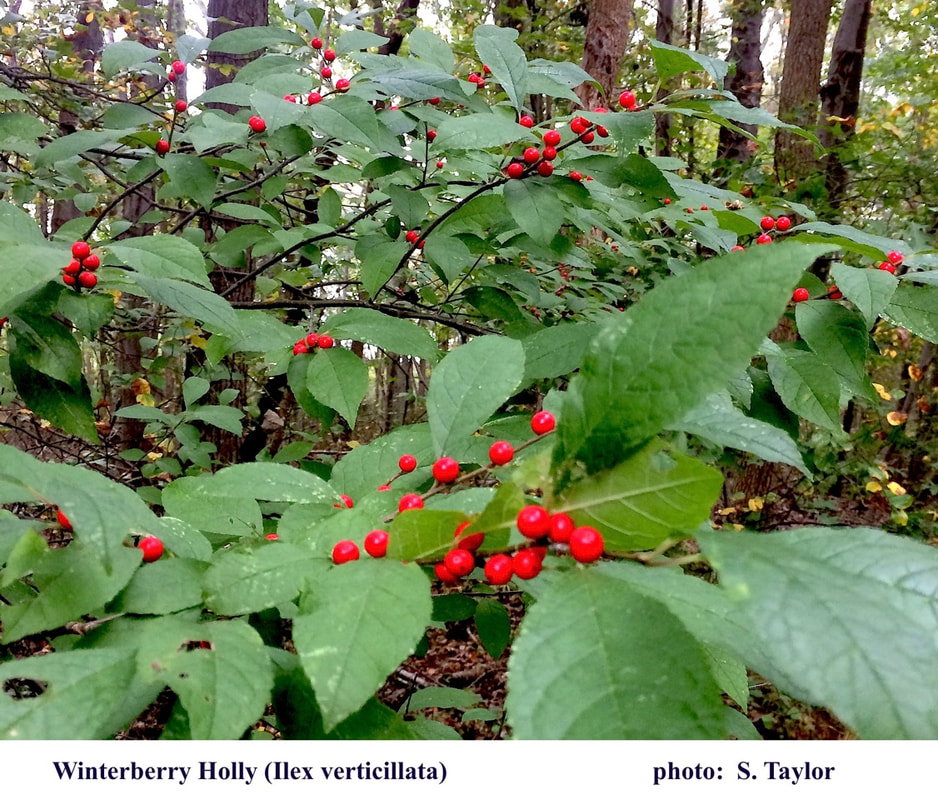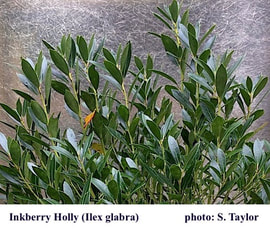 Continuing our series of articles highlighting the native species that we need to encourage, this month we spotlight Hollies.
Most people know about our American Holly
(Ilex opaca)
. It is the evergreen Yuletide holly of Christmas cards and kitchen towels. Although a native throughout the eastern US, there are many commercial varieties, some resulting from work at Rutgers. If you're up for a trip, visit the Rutgers Holly Garden in New Brunswick; one of the largest holly collections in the country. 'Dan Fenton', 'Jersey Princess', 'Jersey Delight', and 'Jersey Knight', 'Cumberland', 'Judge Brown', and 'Old Heavy Berry' are notable selections. Hollies thrive in full sun and tolerate shade and like acidic soil. They provide cover and winter food for birds, and they are rarely damaged by deer. Typically they are landscaping specimen plants 30 - 60 feet tall, but they can be used for large hedges. It is impressive to look through any window and see hollies.
If your landscaping needs run more toward shrubbery, the evergreen Inkberry Holly
(Ilex glabra)
might be a good choice. Even though its leaves don't have the thorns of its big cousin, this pine barrens native is seldom damaged by deer. It grows 3 -8 feet tall, depending on the variety. As the name suggests, the berries are black and particularly attractive, except to the birds. It needs moisture, which could be a pro or con depending on your situation, but it will do well in sun or part shade.
Another shrub holly is the Winterberry Holly (
Ilex verticillata)
. This Roosevelt native is seldom damaged by deer. Unlike the previous two, this holly is deciduous. The lack of winter foliage reveals the bright red or yellow berries. The wild plants tend to be on the large size and a bit leggy. Commercially available varieties are more restrained. Drive around town this winter, you'll see some.
And now for the technical stuff. Some plants like apples and tomatoes have 'perfect' flowers that have both male (pollen producing stamens) and female (seed producing carpels) parts. Other plants like corn, sweet gum trees and zucchini have separate male and female flowers on the same plant. Still others, like dates,
persimmons
and hollies have plants with either male of female flowers, dioecious. So why does this matter? The commercial varieties of American hollies and Winterberries are female, selected for their colorful berries and other desirable traits. In order to have berries, hollies need a pollinator plant. Outside of their native range, this means planting a pollinator. Some Winterberry sources actually put male and female plants in the same pot. Luckily there are enough native plants around here to do the job. If you should attempt to grow hollies from seed, you can count on many to be berryless. Also holly seed can take 2-3 years to germinate, but it can be a fun project.
So plant natives, plant hollies, they will pay you back with interest.
References:
Rutgers Holly Garden
http://rutgersgardens.rutgers.edu/hollies.html
American Holly
(Ilex opaca)
http://www.hort.uconn.edu/plants/detail.php?pid=219
Inkberry Holly (
Ilex glabra
)
http://hort.uconn.edu/detail.php?pid=218
Winterberry Holly (
Ilex verticillata)
http://www.hort.uconn.edu/plants/detail.php?pid=221
​